Vision Display Stand reclined brochure display
A vision of beauty
Designed to create highly visible, highly practical displays for all types of brochure, leaflet and magazines.
Call 01924 291333
Leaflet Holders

Perfect for leaflets or small format forms these clear acrylic attachments feature a double pocket and can be mounted on either side of the stand.

A4 Form Holder

Clear acrylic pockets for A4 brochures, magazines or forms. Providing maximum exposure for literature they can be fitted on both sides of the display stand.

A4 Magazine Holder

Interlocking Stacker Pockets provide a great way to organise and display magazines in waiting rooms or retail environments. They can be mounted on both sides of the Menhir display stand.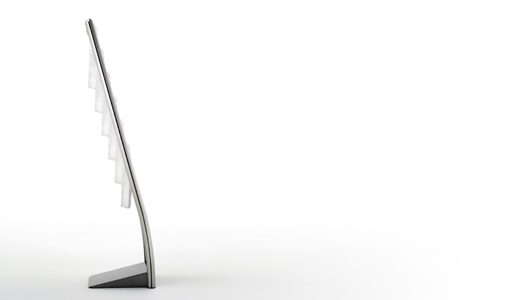 Seeing is believing
Stylish Italian design
The combination of an anodised aluminium frame with a varnished steel base and transparent plastics has produced a stylish yet simple range of stands which provide different display solutions to suit your needs.