Intuos COMICwith art package for MAC or PC
Bring your stories to life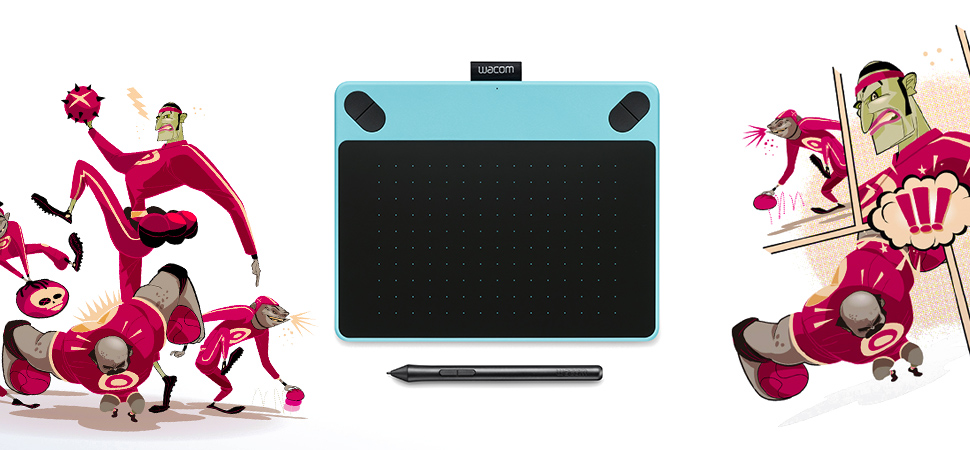 Intuos Comic comes with everything you need to get started creating your own comic or manga.
Get the precision you need from the pressure-sensitive Intuos pen for sketching, inking and coloring your characters.
Create your favorite heroes and characters to tell your own story.
Intuos COMIC graphics tablet with pen and touch.
Create powerful characters.
Full multi-touch gesture control.
Wacom ergonomic pen with 1024 levels of pressure sensitivity.
Easy to connect. Compatible with MAC or PC.
Wireless kit available. Sold separately.
Serious About Comic Art?
Take Your Characters To The Next Level
Bring your creations and stories to life with Intuos. The natural pen and multi touch interface gives you the power to express your creativity however you want.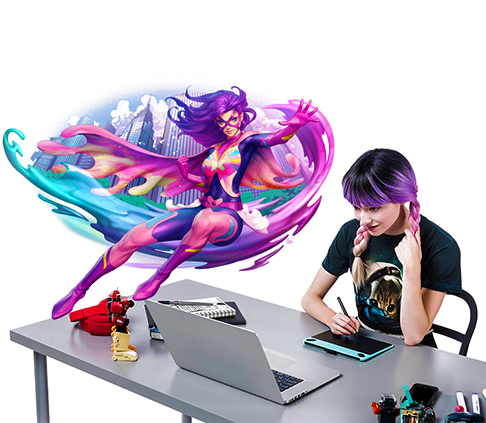 Pen and Multi-touch Control
Pressure sensitive pen
All Intuos Comic models include multi-touch, which allows you to use common gestures to zoom, rotate and pan your artwork and click in your applications. With 1024 distinct pressure levels, the precise pen perfectly mirrors your natural brushstrokes and lines.
Quick Start
Compatibility & Simplicity
Setup is simple. Just plug a single USB into your Mac or PC. Install the driver, then register and download your creative software. And you're ready to start creating. It's quick and easy to get started with Intuos. Wireless connectivity is also available through the wireless adapter (sold separately).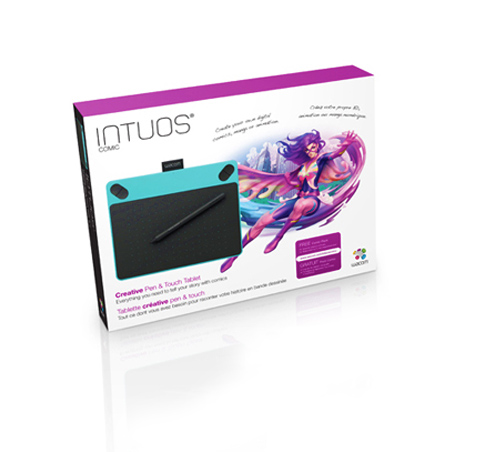 Everything You Need
To Create A Classic
If you want your characters to fly off the page, Intuos Comic is your perfect sidekick. Sketch, ink, and color frame after frame, and bring your story to life. It's never been easier to make your comics and manga pop. Supplied with powerful software to get you sketching and colouring straight away.
Software with attitude
Get going straight from the box
To create your comic world, you need the right software. Intuos Comic comes with Clip Studio Paint Pro and Anime Studio® Debut 10*, just the tools you need to bring your characters to life.
*Registration required to redeem software and other offers.
*Clip Studio Paint Pro is a 2-year limited software use license, with the option to upgrade to an unlimited version at a discounted rate or to continue to use it as Clip Studio Paint Debut Version after expiration of the 2 year period.

Control Room.
Your device settings everywhere.
Save your preferred Wacom device settings in the Wacom Cloud and access and load your settings from everywhere.
Learn More