Cintiq 13HD & 13HD TouchCreative Pen Display for MAC or PC
Serious sketching. Wherever.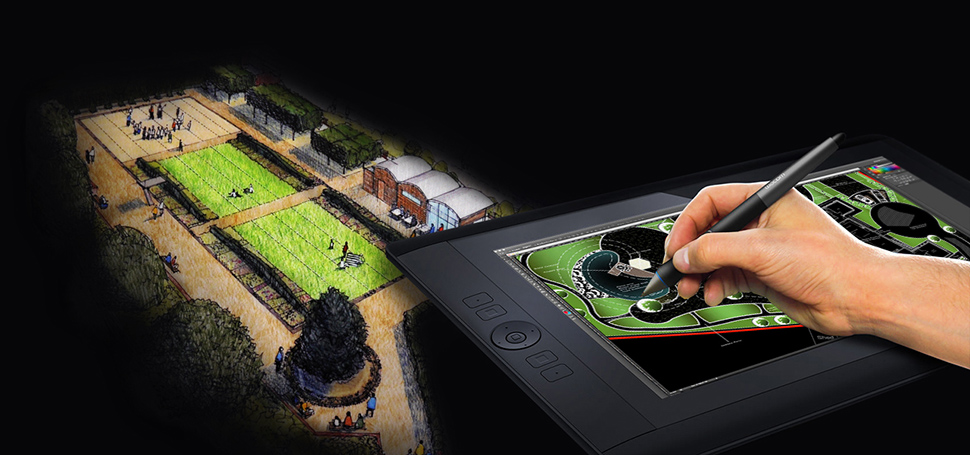 Follow your inspiration with the Cintiq 13HD creative pen display.
Available with touch-screen capability this sketchbook offers pressure-sensitive
controls for natural pen-on-screen feel.
Compact and portable 13 inch professional digital sketchbook display.
Cintiq 13HD Touch features full multi-touch gesture support.Cintiq 13HD Touch features full multi-touch gesture support.
Work in a natural and comfortable way with realistic pen feedback.
Detachable back-stand provides three working angles for the perfect working position.
With 2048 distinct pressure levels as well as tilt control you can create any type of line or brushstroke with ease.
Your favorite shortcuts, right at your fingers.
Create without boundaries, with the programs you already know and love. Compatible with MAC or PC.
Work the way you want.
Natural pen-on-screen feel.
Enjoy a unique design experience with a high-performance Cintiq in a compact, low weight and slim design. This 13.3'' full HD sketchbook offers pressure-sensitive control and convenient touch-screen capability for fast workflow.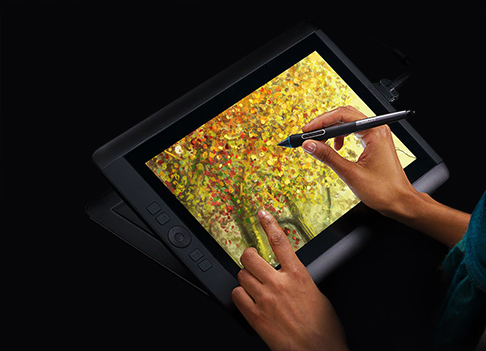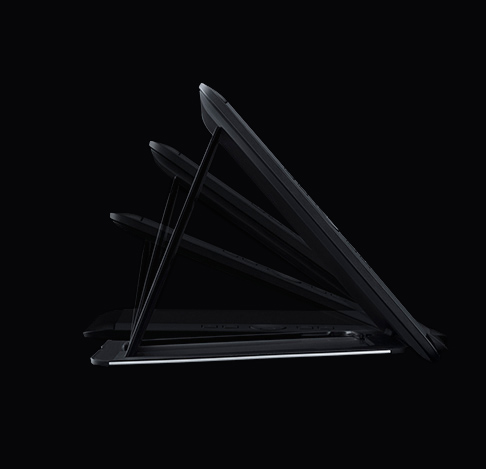 Create in comfort.
Angle adjustable stand.
Find your perfect working position quickly and easily allowing you to draw in complete comfort.
Serious sketching.
For the professional designer.
Work intuitively and directly on screen with the Pro Pen. 2048 levels of pressure sensitivity, tilt recognition and ergonomic design allow for precise control. A range of hard to soft nibs create a natural pen-on-paper feel and let you easily draw fluid lines or intricate brush strokes to bring your creations to life.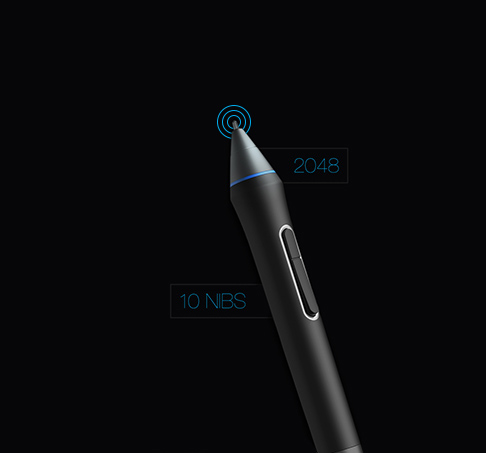 No Compromise.
13 inches of pow
Create bold designs that amaze from every perspective. It's easy with a high-resolution 1920 x 1080 LED display featuring a 178° viewing angle, and 16.7 million colours.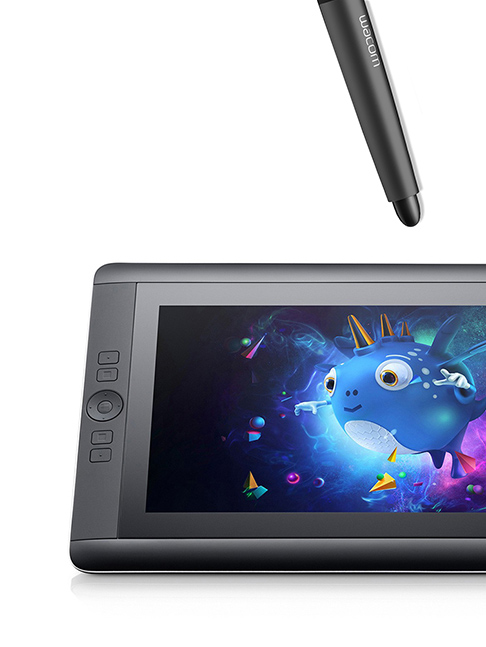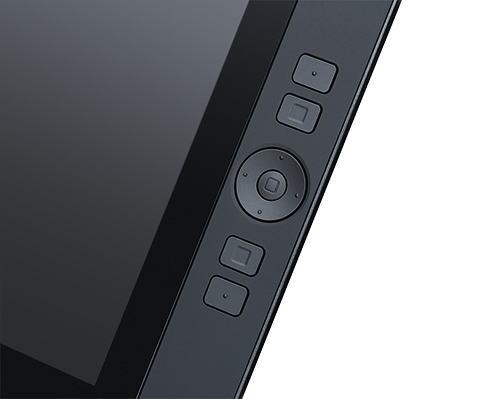 Functions you want.
Right under your finger tips.
The Cintiq 13HD and 13HD touch offer many of the advantages of the larger desktop Cintiq versions. Four customisable ExpressKeys, the Rocker Ring and on-screen Radial Menu controls provide easy access to the time-saving shortcuts of your favourite creative applications.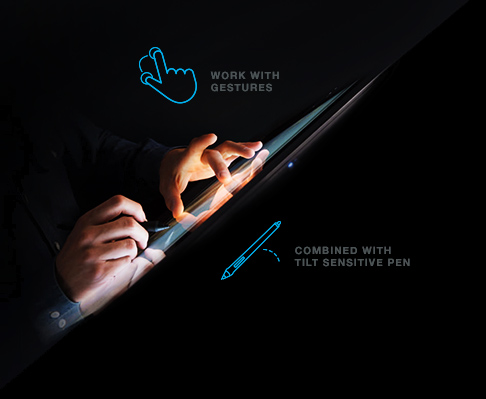 Hands on creative experience.
Pen and Multi-touch
Keep your hands on your work. Literally. Wacom gives you support for on-screen gesture recognition, available in many of your favorite creative applications, from Adobe® Illustrator® to MudBox®. Naturally, you'll appreciate the precise, intuitive control of working directly on-screen with Wacom's pressure-sensitive pen.
Create Something Amazing
From broad brush to fine tip
The natural, elegant feel of the Pro Pen allows you to express your creativity all without the need for heavy batteries. A selection of interchangeable nibs provides a range of different feels and possibilities.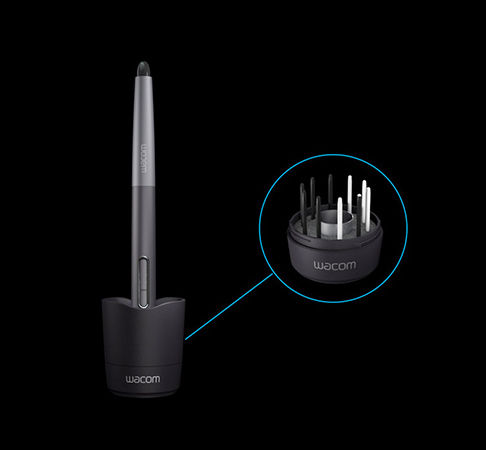 Plug and Play.
MAC and PC Compatible
Simply install the driver on your MAC or Windows PC, connect via USB and HDMI and you're ready to go with the same desktop experience you already know.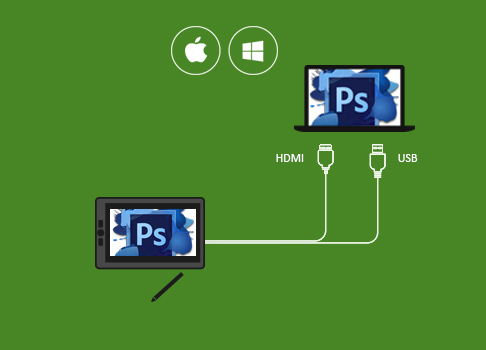 The Software You Love.
On the platform you know.
After you have connected Cintiq to your MAC or PC, it will mirror or extend your desktop giving full access to your software. With the Cintiq 13HD creative pen and touch display you can touch to pan, zoom, rotate and activate on-screen controls for a smoother and more instinctive workflow in many of your favorite creative applications, from Adobe Photoshop to Autodesk Mudbox or Corel Painter.

Your device settings everywhere.
Save your preferred Wacom device settings in the Wacom Cloud and access and load your settings from everywhere.
Learn More